Bag: 13.5" x 18" x 3.5"
Strap Drop: 11"

This bag features an interior cotton lining in black with an open pocket and a sturdy metal zipper closure.

100% premium wool
Genuine leather
Black cotton lining
Hand-dyed and handwoven

Each MZ Made creation is a work of art, handmade with immense love and pride. We strive to preserve the beautiful traditions and superb artistry of the Zapotec people by connecting them with socially conscious consumers around the globe.

Handmade by master Zapotec artisans Malena + Hugo in Oaxaca, Mexico.

Malena has been weaving all of her life, learning first from her grandfather, starting with simple designs that later became more and more complex. Her favorite part of the process is the moment the colors and the designs start to come together.

Your handmade item is made with premium wool, which naturally repels dirt, debris, and moisture. It requires less laundering than other fibers! Never use a washer or dryer.
For light cleaning, we suggest a cashmere brush. They are readily available online and in most craft and yarn stores.
For more intensive cleaning, we recommend eco-friendly dry cleaning.
MZ Made is a Certified B Corp and accredited Fair Trade by the Fair Trade Federation.
MZ Made celebrates the weaving traditions of Oaxaca, Mexico. For over a decade we have worked in true partnership with artisan communities, led by the ethos of slow fashion. Your purchase connects you to real people and their incredible artistry. Expertly handcrafted from start to finish, every thread has a story.
Free standard shipping for all continental U.S. orders over $100
$5 flat rate shipping for all continental U.S. orders under $100
Free 30 day returns for continental U.S. orders.
Holiday Returns: On orders placed after November 7th 2022, we will accept eligibile returns postmarked up to 30 days after December 25th 2022
Customer Reviews
Fabulous Tote!
The quality, size, and colors are excellent. Beautifully made and I love it!
02/04/2022
Katherine W.

United States
Awesome purchase
This is exactly the tote I wanted…and hunted for. The price was reasonable and I love knowing who the artists are who created it.
12/10/2021
Merrily T.

United States
Arrived very timely and it is a beautiful bag. It is being given as a gift.
12/08/2021
Lauren/Chris O.

United States
11/11/2021
Elizabeth G.

United States
Love it!
This is a Beautiful bag. I love the colours, and the feel of the wool. I also like the way it smells-leather and wool.
10/21/2021
Joyce S.

United States
Beautiful
Excellent service, beautiful quality! This is my third purchase!
08/28/2021
Rosemary

United States
A work of art!
This is my favorite bag. It is beautifully handcrafted and the color combination is stunning. It is not too big.
06/02/2021
Ellen M.

United States
Beyond Expectations
The bag(s) are beautiful, well-made, and functional. The craftsmanship is excellent! I would definitely purchase another one; no regrets! The individuals who created them are artists!
04/14/2021
Sheryl C.

United States
Beautiful Bag
I love my Dark Earth + Arrows Tote. Not only is it beautiful but it is such a well made bag using quality materials. I know I will enjoy using this stylish bag!
03/25/2021
Vickie P.

United States
Thrilled with my bag!
a ten out of ten!
01/03/2021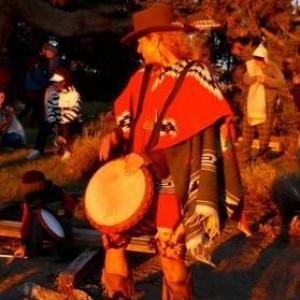 SO
Sarah-Jane O.

United States
Love my Tote
I was so excited to receive my tote for many thrilling reasons - the sheer natural beauty of ancient weaving patterns & rich colors that reflect and symbolize mother earth. Then feeling and using my bag - I really appreciate the wonderful craftwoman and craftsmanship of something that is hand made, especially being a maker myself. Lastly the "less is more" design - that feels nice an easy & truly practical. This little bag is beautiful Art that can be admired by all! I've received so many compliments - I'm happy to share them here. I love my new heirloom treasure! To know that this little bag is helping others thrive and that it is made with precious hands that connect me with other sweet souls of other lands, makes my heart sing!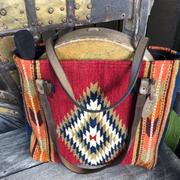 11/17/2020
Julie P.

United States
Gorgeous Tote!!
Just received my Dark Earth & Arrows tote and I couldn't be more thrilled! The colors are even more gorgeous in person and the craftsmanship is impeccable!! Please give my heartfelt thanks to Malena Jimenez for creating such a beautiful bag!! Be well, be safe! Kindest regards, Julie
08/20/2020
Beth R.

United States
The BEST bag!
I absolutely love my purchase! This bag is the perfect size, and is made very well! The colors are perfect for fall!!! I'm sure I'll be purchasing from you again!
08/07/2020
Rebecca C.

United States
I love my tote!
I love my bag. It's prettier than I expected. The quality couldn't be any better. I can't wait to get out with it. I have no regrets buying it.
BEAUTIFUL!!!!
I'm not sure how to put into words just how much I love this bag. I now have purchased three totes and two clutches from MZ and love every one so much! They're all so beautiful and unique in their own beautiful way-like works of art. Specifically, the colors of the Dark Earth & Arrows tote might be my favorite of them all. It's just absolutely beautiful. And a word of advice for anyone out there on the fence about making their first purchase from this company...the pieces are 1,000 times more beautiful in person, and the photos (although great) just don't do them justice. I also love how a real person crafts these products (and just WAIT until you see the craftsmanship for yourself) and very fast shipping! This will not be my last purchase from MZFairtrade. I'm so glad I found you!
MZ Fair Trade
Thank you so much for your kind words :) It means so much to us!