Bag: 13.5" x 18" x 3.5"
Strap Drop: 11"

This bag features an interior cotton lining in black with an open pocket and a sturdy metal zipper closure.

100% premium wool
Genuine leather
Black cotton lining
Hand-dyed and handwoven

Each MZ Made creation is a work of art, handmade with immense love and pride. We strive to preserve the beautiful traditions and superb artistry of the Zapotec people by connecting them with socially conscious consumers around the globe.

Handmade by master Zapotec artisans Maria Luisa + Jose Luis in Oaxaca, Mexico.

Maria Luisa enjoys every part of the weaving process, but it's combining colors that really makes her artistic heart sing and her purses are studies in subtle and complementary color-blocking and traditional patterns.

Maria Luisa comes from a family of four generations of weavers. She learned the art from her parents, and has been weaving for 40 years.
Your handmade item is made with premium wool, which naturally repels dirt, debris, and moisture. It requires less laundering than other fibers! Never use a washer or dryer.
For light cleaning, we suggest a cashmere brush. They are readily available online and in most craft and yarn stores.
For more intensive cleaning, we recommend eco-friendly dry cleaning.
MZ Made is a Certified B Corp and accredited Fair Trade by the Fair Trade Federation.
MZ Made celebrates the weaving traditions of Oaxaca, Mexico. For over a decade we have worked in true partnership with artisan communities, led by the ethos of slow fashion. Your purchase connects you to real people and their incredible artistry. Expertly handcrafted from start to finish, every thread has a story.
Free standard shipping for all continental U.S. orders over $100
$5 flat rate shipping for all continental U.S. orders under $100
Free 30 day returns for continental U.S. orders.
Customer Reviews
02/22/2023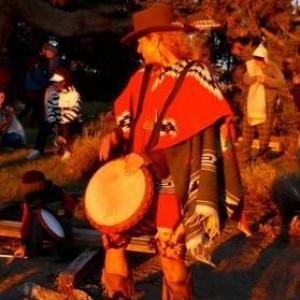 SO
Sarah-Jane O.

United States
My New Favorite
This is my third tote from MZ, plus I have four little bags, which I also love. The colors and pattern of this bag are spectacular. I feel blessed using something that has been hand loomed and made by artisans in addition to being so practical. Please weave one with a black background, so it is more practical to use. I do like the look of the pale ones, but honestly I just wouldn't buy one, because they would get so dirty.
02/07/2023
Gena T.

United States
Two Worlds Tote
Delivery was fast. Tote is beautifully made. The turquoise color is not as vivid as in the online photo, but still a pretty color. The other colors are beautiful and bright. The size is perfect for carrying my Bible and study materials for my weekly Bible study class. The only faults I found are: 1) the handles have been spliced together right in the middle of the leather strap so when you pick up the tote you feel the seam where the leather is sewn together; 2) it would be beneficial to have placed some type of small metal footing on the bottom of the tote to protect the leather from getting dirty when you set it down on a table or floor. Sincerely, A Texas Tote Lovin' Gal
02/02/2023
Robbie M.

United States
Most beautiful bag!
I am very glad and satisfied that I bought this bag. It is very well made. The combination of colors is fantastic. I will be back to this site again.
02/02/2023
Andrea G.

United States
Love it!!
I love this bag! It is nice and sturdy! The colors are vibrant! I will have this for years to come!
12/09/2022
Connie S.

United States
Lots of Compliments
I love my tote. I use it every day and get compliments all the time. I purchased the second one as a Christmas gift for my daughter. I can't wait to see her expression when she unwraps it. They're absolutely beautiful!
12/05/2022
Royden M.

United States
Real Deal
This is a fantastic, well-made tote. Heavy, sturdy materials and build. I was on Sundance and a similar bag (not nearly as cool) was three times the price. MZ gets my business.
07/12/2022
Rebecca S.

United States
The best
I have purchased two bags/totes from MZ Fair Trade. They are beautiful and well-made. I get tons of compliments on them. I'm so happy with my purchases and continue to look on the site for future purchases. The fact that I also get the name of the person(s) that created them is wonderful and I love supporting artisans.
06/18/2022
katherine h.

United States
Beautiful item
I get so many compliments on my beautiful bag. Very original and wonderfully made.
06/03/2022
Leslie C.

United States
My everything bag
I haven't stopped using this bag since I bought it. It went to another state for a graduation event and to a business meeting. So colorful, comfortable, high quality. I'm already eyeing another one!
02/04/2022
Catherine G.

United States
Beautiful!
This is a beautiful bag- well made, gorgeous colours, lovely materials. The leather smells amazing too! Highly recommend!!
12/17/2021
Sherry Z.

United States
Beautiful bags
Great quality product!
10/28/2021
Lacy H.

United States
Great Bag
I haven't used this bag yet, but love it. Quality workmanship, pretty colors, big enough to hold everything. It's a 10!
09/16/2021
Jenn

United States
04/13/2021
ANN O.

United States
A little off on color
Bag is beautiful, but I was a little disappointed in the base color...it is a much deeper green than depicted on the website. Also fabric is beginning to 'pill' a bit, so I may decide not to use it so often as originally planned.
04/12/2021
KATHY S.

United States
Love it!
This bag is beautiful and well made. The turquoise color isn't quite as bright as the photo, it is a bit darker green, but the design is the same. The difference in color isn't a big deal to me because it was the woven design that caught my eye. I'm very happy with it.
04/01/2021
Mikayla .

United States